In September, autumn has begun in many places. Gold and Orange have become the main colors of life. The golden colors make everyone feel brighter.

Therefore, I used maple leaf and gold for the theme of my bullet journal setup in September. In this blog, I will introduce my layout and some ideas for making a bujo. If you want to know some functions and usages of bujo page design, just keep reading.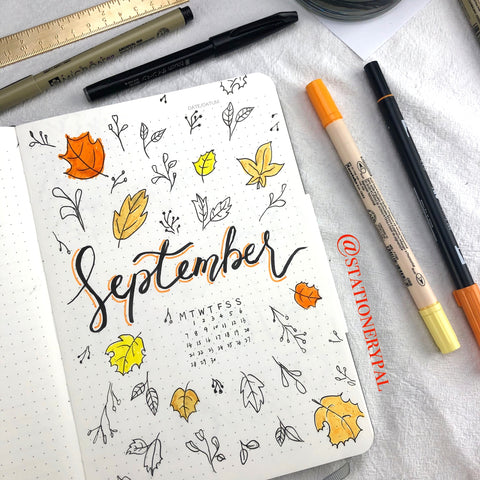 Recommended Supplies: 

Hardcover A5 Notebook Dotted — Gray
Tombow Dual Brush Pen — 933 Orange
Kuretake Zig Brushables Brush Pen — Pure Yellow 050
Kuretake Zig Brushables Brush Pen — Apricot 05
Sakura Pigma Micron Fineliner Pen — 005 - 0.2mm
Sakura Pigma Micron Fineliner Pen — 02 - 0.3m
Pentel Fude Touch Brush Sign Pen — Black
Crayola Super Tips Washable Markers 20-Color Pack
Retro Brass Ruler 15cm
COVER PAGE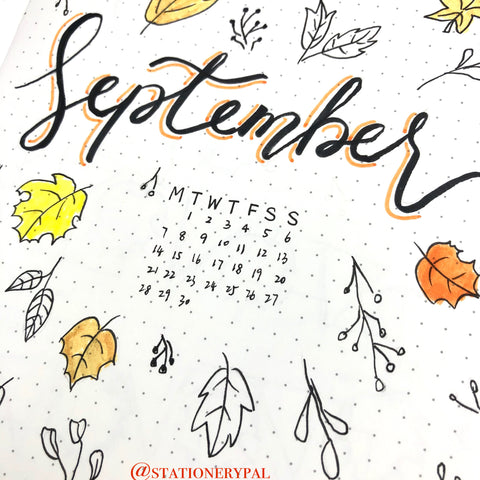 First, I designed some different patterns for maple leaves and flowers. I drafted in the notebook with a pencil. (If you are not good at drawing, believe me, this could help you!)
Then I used a brush pen to write the title "September", and an orange pen to shadow the left and the bottom of each letter, to make the title more obvious and three-dimensional.
Finally, choose a few large leaves and paint different colors of gold, orange, and yellow. The reason I didn't fill it all is that I don't want to make the page too complicated.
Of course, don't forget to add a calendar to remind yourself of the date and week.
HABITS & MOOD TRACKERS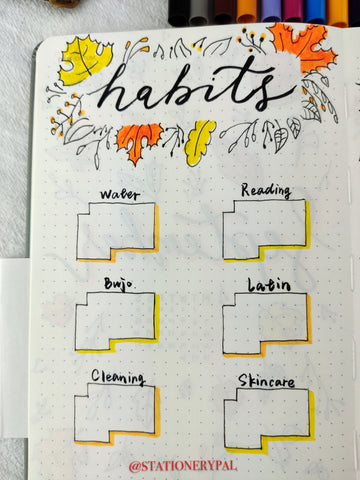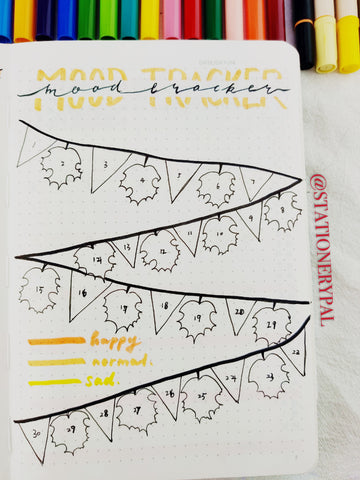 Habits and mood trackers are very important to our monthly plan and summary. You can trace your persistence in hobbies and the ups and downs of your mood at the end of a month, which can help you better regulate your mood next month.
For the habit tracker page, I use the simplest calendar style to make the check-in clearer and easier to track. The title is decorated with the same pattern as the cover page, echoing the theme.

The mood tracker is also designed with maple leaves and three colors. For the title, first cut out a thin strip of paper, let the paper cover part of the words, and write black words on the vacant part with a brush pen.
Author: Sherry